Prayers for children are vital to their fulfillment of destiny and the Bible described them as "a heritage of the Lord."
In Ps 127: 3-5, the Bible says:
"Lo, children are a heritage of the LORD: and the fruit of the womb is his reward.
"Like arrows in the hands of a warrior are children born in one's youth. Blessed is the man whose quiver is full of them. They will not be put to shame when they contend with their opponents in court."
A man or family blessed with children is a man whose joy knows no bound. Children are a special set of people and they are the future of the world.
There may be times when you as a parent feel doubtful about their future and wondering if they would live to fulfil their destiny; become those great people you've always dreamt about.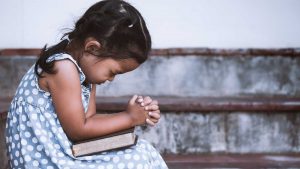 Prayer For Children: How Important? 
Jeremiah 29:11 (NIV) says:
"For I know the plans I have for you," declares the Lord, "plans to prosper you and not to harm you, plans to give you hope and a future."
As such times, one of the instruments at your disposal is prayers. Yes, prayers for children are a way of committing them into God's hands to ensure that they turn out what He has destined them for.
Since God is the one that handed them to you as a parent, it is only logical for you to commit them into His hands as such times (all times, actually) so He can help you raise them rightly.
Our opening Bible verses tell us that these children are a "heritage [gift] from God. To help you do your work rightly as a parent, I have compiled amazing prayers for children.
I believe strongly in the power of prayers and how they can turn things around in any situation, most especially when it concerns children.
Says these prayers with faith for your children/wards and trust God t do only what He can do in their lives:
So, below are the prayers for children that you'd need as a parent with Bible verses attached:
Prayer For Children's Protection and Safety 
Psalm 9:1-2:
"He who dwells in the shelter of the Most High will abide in the shadow of the Almighty. I will say to the Lord, "My refuge and my fortress, my God, in whom I trust."
1. Father, I thank You for my child(ren). I commit them unto Your hand, Lord. Keep them everywhere they go.
2. Lord, may Your hands cover them. Clear their path, Almighty Father, wherever they go in the name of Jesus!
3. Watch over them in whatever they do and keep them safe at all times in the name of Jesus!
"Therefore you shall keep his statutes and his commandments, which I command you today, that it may go well with you and with your children after you, and that you may prolong your days in the land that the Lord your God is giving you for all time."  – Deuteronomy 4:40
4. Almighty God, help my children to overcome temptations and sin. Father, help them to not give in to evil and harm.
5. In the name of Jesus, Father, help my children by the power of the Holy Spirit to obey You and me!
6. Father, give my children the hearts to obey You and live according to Your commandments in the name of Jesus!
7. Thank You, Father, for You will make my children knowledgeable about You! let Your light shine in their heart in the name of Jesus!
8. Father, keep my wards and children; may they grow in Your light and trust You completely in Jesus' name!
Prayers For Children's Health
Here are prayers for children's health below:
9. Oh Lord, I commit the well-being of my children unto Your hands, keep them away from sickness!
10.  Thank You, Father, for my children, and their health. They would go from strength to strength
111. I rebuke every spirit of sickness in my children. No terminal illness will get to them in Jesus' name!
12. Father, watch over my child and restore Him to that perfect health which it is yours alone to give in Jesus Christ's name. Amen!
Prayer For Children To Have Wisdom
If any of you lacks wisdom, let him ask God, who gives generously to all without reproach, and it will be given him.  James 1:5
13. Holy Spirit, I commit my children unto Your hands, as the custodian of wisdom, give my kids the ability to discern things at all times.
14. Oh, Lord! I call on Yiu today, as the compass of my children, led them aright in every direction. They will not go astray in the name of Jesus!
15. My God, even when the paths of my children are dim, lit them up with Your light in Jesus' name!
Prayer Points For Children To Know God
Trust in the Lord with all your heart, and do not lean on your own understanding. In all your ways acknowledge him, and he will make straight your paths. Proverbs 3:5-6
"Train up a child in the way he should go; even when he is old he will not depart from it."- Proverbs 22:6
16. Lord, I commit my children unto Your hands, help them to know and follow Your path.
17. Keep my wards in Your path, Oh Lord! May they never go away from You in the name of Jesus!
18. Almighty God, let your love dwell in their hearts so that they may trust you wholly!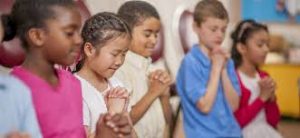 Prayer For Strength To Train My Children
I can do all things through him who strengthens me. –  Philippians 4:13
18. Almighty Father, as You have given me these children, I trust in You for strength to bring them up in Your way!
19. My God and source of strength, help me oh Lord not to back out in this duty of raising godly seeds! You have been my strength and source of hope, I lean on You to do this work that You have entrusted to me!
20. Thank You Lord for empowering me to groom these precious children You have blessed me with. Thank You for they will make generational impacts and be blessings to the world in Jesus' name!
Morning Prayer for Children
One of the best things you can do as a parent is to teach your children to pray in the morning. Such a simple act is foundational and helps them in building a healthy relationship with God.
Below are some simple morning prayers that you can teach your children:
21. Lord, I appreciate You for another day! Thank You for loving me and being with me!
22. My Lord, I have woken up to a new day! Guide me and be with me in Jesus' name!
23. Thank You, Lord, for this day! Help me as I learn in school today! Amen!
24. Father, I thank You for my parents; thank You for providing for them all that we need! Guide and direct them today in Jesus' name! Amen!
25. Thank You, God, for my friends. Keep and safeguard them today!
Children's Prayer At Night
It might be a bit hard to get your children to pray at night, however, you can help them out with these prayers below:
26. God, I thank You for staying with me today!
27. My Father, thank You for not leading me into trouble throughout the day! Thanks for helping me with everything I faced today!
28. Father, I thank You for all that You have blessed me with for today! For my family, I thank You! Also for my friends, I appreciate Your name!
29. Thank You for helping me to learn in school today, my Father!
30. My God, as I sleep, keep watch over me, as well as my family and friends in Jesus' name!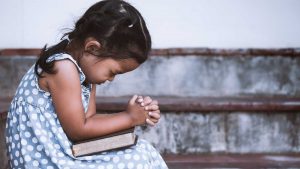 Bible Verses About Children
I have also compiled some bibble verses about children to remind you how great a heritage they are:
1. Children are a heritage from the LORD, offspring a reward from him: Psalm 127:3 (NIV)
2. Train up a child in the way he should go; even when he is old, he will not depart from it:  Proverbs 22:6 (ESV)
3. Discipline your children, and they will give you peace; they will bring you the delights you desire: Proverbs 29:17 (NIV)
4. Honor your father and your mother, so that you may live long in the land the LORD your God is giving you: Exodus 20:12
5. Listen, my son, to your father's instruction and do not forsake your mother's teaching. They are a garland to grace your head and a chain to adorn your neck: Proverbs 1:8-9
6. All your children shall be taught by the LORD, and great shall be the peace of your children: Isaiah 54:13
7. Every good and perfect gift is from above, coming down from the Father of the heavenly lights, who does not change like shifting shadows: James 1:17
8. Children's children are a crown to the aged, and parents are the pride of their children: Prov 17:6