Student loans and debt cancellation is one of the most important issues in the lives of many Christians. Thus offering prayer points to have these loans, which run into millions of dollars, canceled is the right step.
Student loans often become burdens and create anxieties, especially seeing that so many people struggle to pay them back in spite of how hard they try.
While those who did not go to college might not have issues around this area, and looking for divine intervention for their student loans to be canceled, millions of Americans pray daily to have their debts forgiven.
Many young people start out their lives, paying back student loans, and even do so for many years before they are free. It can be demoralising trying to begin life with a huge pile of loans accumulated while you were a student. That's not what many people want.
As a Christian, the scriptures say that the borrower is the servant to the lender. That says a lot about owing debt. While student loans are great options and serve to help people afford education, it is also important to note that praying that such debts are cancelled or forgiven is not out of place.
Prayer Points For Student Loans And Debt Cancellation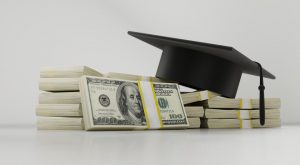 And so, this post is basically aimed at helping those who are looking for divine intervention for their student loan forgiveness. These prayer points are targeted at helping you seek God's face if you are overwhelmed by the thoughts of paying back your student loans.
1. Father, thank you for you are the God that provides.
2. Thank you because you are the Jehovah Jireh. Lord, you are able to provide and take care of me.
3. You own the cattle in the thousand hills and you are able to forgive everyone that owns any debt.
4. Lord, I  pray for the forgiveness of my student loan.
5. I join my faith with that of everyone reading this and I ask you to come to our aid and supernaturally cancel our student loans and debts which are overwhelming for us.
6. Father, thank you because, by the precious blood of Jesus Christ, my student loans and debts are canceled.
7.  In the name of Jesus, Oh Lord, provide me employment so that I will be able to repay
the student loans.
8. I ask for overflow and financial abundance that will enable me to repay this student loan and debt.
9. Lord, I pray that I don't become a slave unto anything even on to my lenders. Free me from the shackles of student loans!
10. Father, I don't want to remain a slave to my debt.
11. Help me, Oh Lord, to get supernatural student loans and debt cancellation in the name of Jesus!
12. Make me free, Lord, from every form of debt.
13. Lord Jesus, lead me to a path flowing with wealth that will keep me away from debt, poverty, and lack of any kind in the name of Jesus!
14. I pray for supernatural intervention in my financial troubles.
15. Send help unto me, My Father, that will lead to the cancellation of any student loan and all forms of debt I am owing.
16. Dear Lord, I ask for a debt cancellation agreement that will be in my favour in Jesus' name!
17. Heavenly Father, cause policies to work in my favour so that I  may gain financial freedom and my student loans canceled and forgiven in the name of Jesus.
18. My God, I thank you because you are granting me freedom from every student loan. 19. Thank you, dear Lord, for making me debt-free.
20. Thank you for giving me financial freedom and a breakthrough. To you alone be all the glory, praises, and adoration in Jesus' mighty.
21. Father, this is the confidence that I have that my student loans have been cancelled and forgiven because You said if I ask, it shall be given.
22. Thank you most loving Father for helping me make this student loan and debt cancellation reality in Jesus' name.
Bible Verses For Student Loans And Debts Cancellation
Aside from these prayer points, below are some Bible verses you can also meditate on and pray with while seeking divine intervention for your student loans and debts cancellation: 
Exodus 22:25-27 New Living Translation (NLT):  "If you lend money to any of my people who are in need, do not charge interest as a money lender would. If you take your neighbor's cloak as security for a loan, you must return it before sunset.  This coat may be the only blanket your neighbor has. How can a person sleep without it? If you do not return it and your neighbor cries out to me for help, then I will hear, for I am merciful."
Colossians 3:13: bearing with one another, and forgiving one another, if anyone has a complaint against another; even as Christ forgave you, so you also must do.
2 Corinthians 9:10: Now may He who supplies seed to the sower, and bread for food, supply and multiply the seed you have sown and increase the fruits of your righteousness.
2 Corinthians 8:9: For you know the grace of our Lord Jesus Christ, that though he was rich, yet for your sake, he became poor so that you through his poverty might become rich.
Psalm 12: 5: Because the poor are plundered and the needy groan, I will now arise, says the Lord. I will protect them from those who malign them.
Ezekiel 18:7: if a man does not oppress anyone, but restores to the debtor his pledge, does not commit robbery, but gives his bread to the hungry and covers the naked with clothing.
Prayer Of Salvation
If you're not born again and received Christ as your Lord and saviour, say  this prayer:
Do you know Jesus? Do you want to rededicate your life to God? Do you want to experience peace in your life? You too can begin a NEW LIFE with JESUS CHRIST Today. We invite you to make Jesus Christ the Lord of your life by praying this prayer;
"O Lord God, I come to You in the Name of Jesus Christ.
I believe with all my heart in Jesus Christ, Son of the living God. I believe He died for me and God raised Him from the dead. I believe He's alive today. I confess with my mouth that Jesus Christ is the Lord of my life from this day. Through Him and in His Name, I have eternal life; I'm born again. Thank you, Lord, for saving my soul! I'm now a child of God. Halleluiah!"
Congratulations! You are now a child of God!