The Shiloh 2019 live stream is available with just a click as the Winners' Chapel starts the programme which would be watched online in many nations.
Read Also: 5 Perfect, Affordable Christmas Gift Ideas For Your Pastors
Shiloh 2019 Date
Shiloh 2019 will be starting from Tuesday, December 3rd  and end on Sunday, December 8th at the Faith Tabernacle in Ota, Ogun State.
What Is Shiloh 2019 Theme?
The Shiloh 2019 theme of the Winners' Chapel is "Breaking Limits," according to a statement by Bishop David Oyedepo who is the Founder of the Church.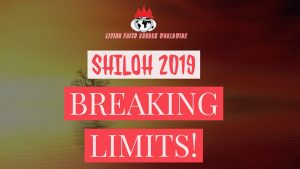 How To Do Shiloh 2019 Live Stream; Watch Shiloh 2019 Online
The live stream for Shiloh 2019 is available online and can be done via these means:
1. Domi Youtube Live Stream Channel
This is the live stream or YouTube channel of the Winners' Chapel where you can watch Shiloh 2019 online.
In addition to Shiloh 2019, the Domi YouTube channel of the Living Faith Church is where you can watch the Covenant hour of prayer live.
The Covenant Hour of Prayer live streaming can be accessed online via mobile devices and laptops.
Interestingly, this is the same way you can enjoy the 2019 Shiloh live streaming now on this Domi YouTube channel anywhere in the world from day 1 to the last day!
Visit this link for the Shiloh 2019 live stream today!
2. Faith Tabernacle Ota Live Streaming
Also, the Shiloh 2019 service can be watched from the Living Faith Church, Canaan Land, Ota live today. 
This is possible from due to the Domi live streaming which functions as the living faith church online service platform.
The Shiloh live stream is available on the Faith Tabernacle website of the Winners' Chapel here.
This is also the online platform to watch the Living Faith Church Nigeria live streaming for all services including the Covenant Hour of Prayer today and at all times.
Shiloh 2019 Programme Schedule
Below is the Shiloh 2019 programme schedule:
Prayer Hour: 5:30 am to 7-00 am
Hour of Visitation/ special sessions: 7:00am – 11:am
Encounter Night: 7:00 PM
The time noted here for Shiloh 2019 is Nigerian time and that is when the events will be transmitted live online.
Shiloh 2019 Messages 
All Shiloh 2019 messages by Bishop Oyedepo and other men of God will be made available here.
However, if you don't get them there and you are in Nigeria, attend any Winners' Chapel live service today and get the Shiloh messages dating way back!
Read Also: 5 Perfect, Affordable Christmas Gift Ideas For Your Pastors
Shiloh 2019 Viewing Centers In Lagos State, Nigeria
For those who can't watch the Winners'Chapel programme online, you can also visit any of these Shiloh 2019 viewing centres in Lagos State, Nigeria, below:
1. CAPERNAUM 38, RAJI OBA STREET, ALIMOSHO – IYANA IPAJA
2. AYOBO 1, PARK LANE OFF BABS ANIMASHAUN CRESENT, AYOBO.
3. GOWON ESTATE FAITH ACADEMY, GOWON ESTATE
4.  IYANA-ODO KM 1, LASU-ISHERI ROAD, IYANA ODO BUS STOP, IDIMU.
5.  IGANDO KM 11, LASU IGANDO ROAD, IGANDO
6. OGBA 16, WEMCO ROAD OFF LATEEF JAKANDE WAY, OGBA.
7. ANTHONY 10, ADEBAYO MOKUOLU STR, ANTHONY VILLAGE
8. OJODU 21, OLALEKE TAIWO ST, BY GRAMMER SCHOOL B/S, OJODU
9. OREGUN 68/69, MORRISON CRESENT, OREGUN, IKEJA
10.  OKOKOMAIKO 1008, KM 22 LAGOS-BADAGRY EXPRESSWAY, IYANA-ISHASHI
11.  OPIC ESTATE, AGBARA OPIC ESTATE, AGBARA
12.  AMUWO 1, COVENANT ROAD, AMUWO ODOFIN BY ABC TRANSPORT
13. OKOTA 30/32 HARRISON SOLAJA ST, OFF AGO PALACE WAY, OKOTA
14.  AJEGUNLE 184, KIRIKIRI ROAD, OLODI APAPA, LAGOS
15.  OSHODI 11, OGUNDELE STREET, MAFOLUKU, OSHODI
16.  IJAYE 3/5, AKINSHOLA STREET, AJALA BUS STOP, IJAYE
17.  AIT 118, AIT ROAD BESIDE FLEMMING PLAZA, AIT, ALAGBADO
18. BODE WILLIAMS 40, BODE WILLIAMS STREET, AHMADIYA BUS STOP
19.  ALAGBADO AKINDE ROAD, VIA AJEGUNLE ILO B/STOP, ALAGBADO, LAGOS
20.  ELF, LEKKI ELF B/STOP, BESIDE GACON HOUSE, ALONG LEKKI EXPRESS ROAD
21. YABA 44, MONTGOMERY ROAD, YABA
22.  SURULERE PLOT 31, JIMOH ODUTOLA STREET, OFF BABS ANIMASAHUN SURULERE
23.  ATAN IDIROKO ROAD, ATAN
24.  SANGO 151, LAGOS-ABEOKUTA EXP. RD. BESIDE SPRING BANK, SANGO
25.  IJOKO 22, EGBEDEYI CLOSE OFF IJOKO ROAD, IJOKO
26.  AKUTE 2, TUNDE SENBANJO CRESENT, AKUTE
27.  SHASHA 9, RASAQ AJAKO AVENUE, BY AJAKO B/STOP, SHASHA
28.  OKOKOMAIKO 2 40, AKA ROAD, OKOKOMAIKO (TOLA COMPREHENSIVE HIGH SCHOOL)
29.  IJU-ISHAGA 1-3, FRANLYN ADEJUMO CLOSE, OFF ADESHINA STREET, BY OLUSESI B/STOP IJU-ISHAGA
30.  IJEGUN-IKOTUN ALONG MAKINDE STREET, OFF PIPELINE, IKOTUN
31.  FESTAC 23/52 JUNCTION ROAD, FESTAC TOWN
32.  WILLIAMS ESTATE, AGEGE WILLAMS ESTATE TABON AGEGE
33.  OWODE OFF IDIROKO ROAD, ALAGBON OWODE YEWA, IJAGBA
34. IKOSI-KETU 96, ALADEOLA STREET, IKOSI-KETU
35.  ORUDU, ADIYAN 50, OLAOGUN ROAD, IDIOROGBO VILLAGE
36.  JESAB, SHIBIRI BEHIND BAALES' PALACE, IMUDE ROUNDABOUT, SHIBIRI
37.  AJANGBADI ION PETROL STATION 240, OJO IGBEDE RD, AJANGBADI, OJO OKOKO
38.  IKOYI 11, LUGARD AVENUE, IKOYI
39.  TAKWA BAY UAC CHALET, TARKWA BAY
40.  HAPPYLAND JOHN AGABI STREET, HAPPYLAND ESTATE, AJAH
41.  VGC PLOT 20, TEDO HOUSING ESTATE LEKKI (LE REAL HOTEL VGC)
42.  AGUDA 25, OGUNGBESAN STREET, COKER, AGUDA
43.  MAGODO PLOT 87, BLOCK G, MAGODO GRA
44.  EJIGBO 11/13 KOLA REWIRE STREET, RONIK SCHOOL, EJIGBO
45.  ISHERI 16, CHANNELS ROAD OPIC, ISHERI.