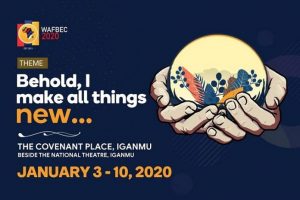 WAFBEC 2020 started on Friday, January 3rd, 2020 at The Covenant Place, Iganmu, Lagos State Nigeria with the programme schedule out.
Prayer Points Altar learned that Pastor Poju Oyemade who is the Senior Pastor of The Covenant Place is the convener of the WAFBEC 2020.
What Is WAFBEC 2020? 
WAFBEC means The West African Faith Believers' Convention (WAFBEC) and is a teaching programme that runs for 8 days with the 2020 edition, not an exception.
Wafbec2020 opens tonight with a powerful healing and breakthrough meeting . @franciswaleoke would be preaching and @dunsinoyekan would be prophesying in psalms, hymns, and spiritual songs

Invite someone!#WAFBEC2020 pic.twitter.com/z707Jxh8xt

— World Faith Believers Convention (@WOFBEC) January 3, 2020
WAFBEC 2020 Theme
WAFBEC 2020 theme is Behold, I Make All Things New
WAFBEC 2020 Date
When is WAFBEC 2020? The date for WAFBEC 2020 is Jan. 03 – 10, 2020
WAFBEC 2020 Venue
The Covenant Place, (Beside National Theatre), Iganmu, Lagos
WAFBEC 2020 Programme Schedule; Time
Pastor Poju's 2020 WAFBEC programme schedule Behold, I Make All Things New is as follows:
Morning Sessions: 9:00am
Afternoon Sessions: 1:00pm
Evening Sessions: 5:30 pm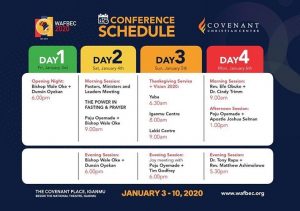 WAFBEC 2020 Live Stream, Messages, Broadcast
To live stream and listen to Pastor Poju's messages and other ministers at the 2020 WAFBEC, kindly click here.
https://www.youtube.com/watch?v=z9fOHY9SAUo
WAFBEC 2020 Message Download
Download WAFBEC messages for 2020 here. Or simply watch all WAFBEC 2020 messages here instead of the audio.
WAFBEC 2020 Ministers, Speakers
The 2020 edition of WAFBEC will see the following ministers and speakers in attendance:
Pastor Poju Oyemade – Senior Pastor of The Covenant Place, Iganmu, Lagos and convener of WAFBEC
Dr Bill Winston – Founder, Bill Winston Ministries, Pastor, Living Word Christian Centre
Pastor Dr Mensa Otabil – Founder of International Central Gospel Church headquartered in Accra, Ghana.
Dr Cindy Trimm – A preacher, an empowerment specialist, revolutionary thinker, and a transformational leader.
Bishop Tudor Bismark – founder and senior pastor of New Life Covenant Church, Harare, Zimbabwe
Pastor Keion Henderson – Pastor, The Lighthouse Church, Texas.
More WAFBEC 2020 Ministers, Speakers
Pastor Chuks Ozabor – Pastor, Grace House Family Church
Pastor Matthew Ashimolowo – President of Kingsway International Christian Centre (KICC)
Bishop Francis Wale Oke – Founder and President, Sword of the Spirit Ministry, Ibadan and the presiding Bishop of Christ Life Church, worldwide.
Dr Kay Ijisesan – founder and president of KingsWord Ministries International
Apostle Joshua Selman – Founder of Eternity Network International (ENI), the host of KOINONIA and the senior pastor of the Christ Gospel Church, Zaria, Kaduna state in Nigeria.
Pastor Andy Osakwe – Senior Pastor, Summit Bible Church
Pastor Keith Butler – President, Word Of Faith International Christian Center.
Kindly share this 2020 WAFBEC programme schedule and live stream post with others!