The 2023 WAFBEC is here! This post details the programme schedule, date, guest ministers, and how you can live stream or watch the event live.
What is WAFBEC?
Prayer Points Altar learned that WAFBEC is the West African Faith Believers' Convention (WAFBEC). Essentially, it is a teaching event and runs for eight days, starting from the first week of every January with 2023, not an exception.
The 2023 edition of WAFBEC is the 10th anniversary of the teaching programme organised by The Covenant Place formerly known as the Covenant Christian Centre (CCC).
When is WAFBEC 2023 Starting?
WAFBEC 2023 marks the 10th year anniversary and will commence on Monday, January 2nd, 2023 at The Covenant Place, Iganmu, Lagos State Nigeria with the programme scheduled out as shown below.
The convener of the programme and the Senior Pastor of the Covenant Place Poju Oyemade in a statement said WAFBEC 2023 will start on Monday, January 2nd, and ends on Sunday, 8th, January.
WAFBEC 2023 Theme, Venue
Further information indicates that the WAFBEC 2023 theme is "The Sound of Many Waters" and the venue of the teaching programme is The Covenant Place, (Beside National Theatre), Iganmu, Lagos State.
WAFBEC 2023 Schedule
Prayer Points Altar gathered that the WAFBEC 2023, like other editions, will have both morning, afternoon, and evening sessions as seen below:
Morning Sessions: 9:00 am
Afternoon Sessions: 1:00 pm
Evening Sessions: 5:30 pm
NB: All times are Nigeria/WAT
WAFBEC 2023 Guest Ministers, Speakers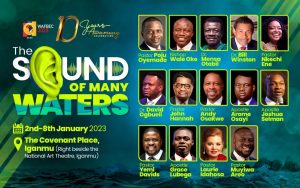 Asides from Pastor Poju Oyemade, WAFBEC 2023 will feature a host of guest ministers, or as some will call them, speakers.
Below is a list of all guest ministers for the 2023 edition of WAFBEC:
Bishop Wale Oke
Dr Mensa Otabil
Dr Bill Winston
Pastor Nkechi Ene
Pastor David Ogbueli
Apostle John Hannah
Pastor Andy Osakwe
Apostle Arome Osayi
Apostle Joshua Selman
Pastor Yemi Davids
Apostle Grace Lubega
Pastor Laurie Idahosa
Apostle Muyiwa Areo
Stream, Watch WAFBEC 2023 Live
For those who won't be physically present in Lagos, you can watch or live stream WAFBEC 2023 via these online platforms: