The Salvation Ministries 5 Nights of Glory (5NOG) 2021 starting date, programme schedule, how to live stream and get the messages plus the list of ministers coming in.
5 Nights Of Glory Dates, Programme Schedule
According to the Salvation Ministries, the 2021 5 Nights of Glory starts from January 18th to the 22nd.
"5 Nights of Glory is a five days power-packed program running annually in Salvation Ministries where God does awesome wonders, restoring hope and transforming destinies. It's a prophetic feast with mighty proofs of God's power which is done every year in the month of January for 5 days," the church said.
"People from all works of life dive in to be blessed and nourished by God. God's will for you is good health, marital peace, fruitfulness, prosperity and continuous triumphs… 3 John 2 says, "Beloved, I wish above all things that thou mayest prosper and be in health, even as thy soul prospereth." And in 2 Corinthians 2:14 says, "Now thanks be unto God, which always causeth us to triumph in Christ…"
The time for the 5NOGS is 4:30 pm Daily (Gmt+1). Save the date! God Bless You! #5NOG2021
Date: Monday 18t to Friday 22nd January 2021.
Time: 4:30 PM Daily
Ministering: Pastor David Ibiyeomie.
VENUE: Salvation Ministries, Home of Success, Plot 17 Birabi Street, GRA Phase 1, Portharcourt And all her Satellite Churches Worldwide.
https://fb.watch/2ZwjDXhSR6/
5 Nights Of Glory 2021 Theme
The theme is Greater Glory.
5 Nights of Glory 2021 Banner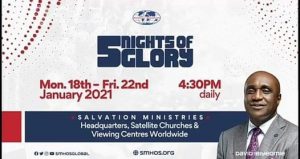 5 Nights of Glory 2021 Registration
Participants are encouraged to register for the 5 Nights of Glory via the Salvation Ministries website here.
Live Stream 5 Nights Of Glory
https://youtu.be/ELC2CBpPpD4