Pastors do a whole lot of hard work grooming and taking care of their members.  Buying them gifts during Christmas is one of the best ways you can appreciate your pastor. 
That is why in this post I will be looking at very simple yet wonderful gift ideas for your pastor this Christmas season. 
NB: This post contains some Amazon affiliate links. 
You probably would be looking out for him Bible,  devotional or some Christian groups as a gift for your pastor this Christmas.
Best Pastor Christmas Gift Ideas 2019
However, after doing my research, here are some of the Christmas gift ideas for your pastor this yuletide season:
Leather Switch Carrying Case/Urban Travel Pouch/Simple Soft Storage Bag Handmade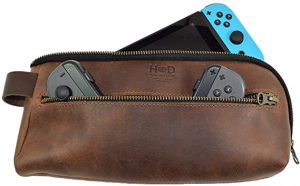 With a simple and functional design, this pouch offers so much room for the user to carry extra accessories like charging cables, a portable charging battery pack to name a few. 
It has a durable and a supple carrying case which shields the devices from scratch and bumps as you travel. 
The exterior is made of full-grain leather to soften the blue off bumps and knocks as you travel. 
Also, it is made from local materials, sturdy but flexible with the ability to last for a lifetime. This leather Nintendo Carry Case Pouch will make an attractive companion while you're on the go.
It is easy to use and an ideal Christmas gift you can buy for your pastor during Christmas. 
Man Of God Arms with Strength Psalm 18:32 16 Oz. Stainless Steel Insulated Travel Mug with Lid
The liner and lid are made of stainless steel material and it comes with dual wall insulation; holding up to 16 fluid ounces of hot or cold beverage. 
It has art wraps around the whole mug and features a scripture Psalm 18 Verse 32
This excellent Christmas gift for your pastor is hand wash only and cannot be microwaved; it is packaged carefully in a form-fitting box.
Cottage Garden Petite Music Box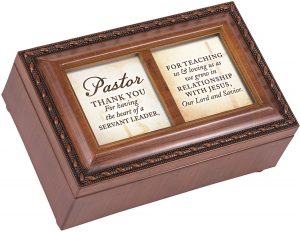 Coming in a wood grain finish and sweet sentiment and details,  this music boss has a timeless appeal. 
You can personalize it's by replacing sentiment art with two (2) 2 x 2-inch photos and the music box measures approximately 6 x 4 x 2.5 inches. 
It is carefully packaged in a protective and fitted box with a wind-up musical mechanism which plays a tune from How Great Thou Art. 
Pastor Travel Mug – Best Pastor Ever Travel Insulated Tumblers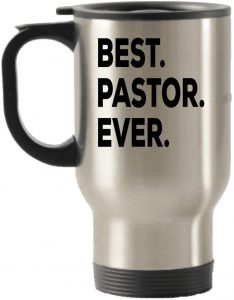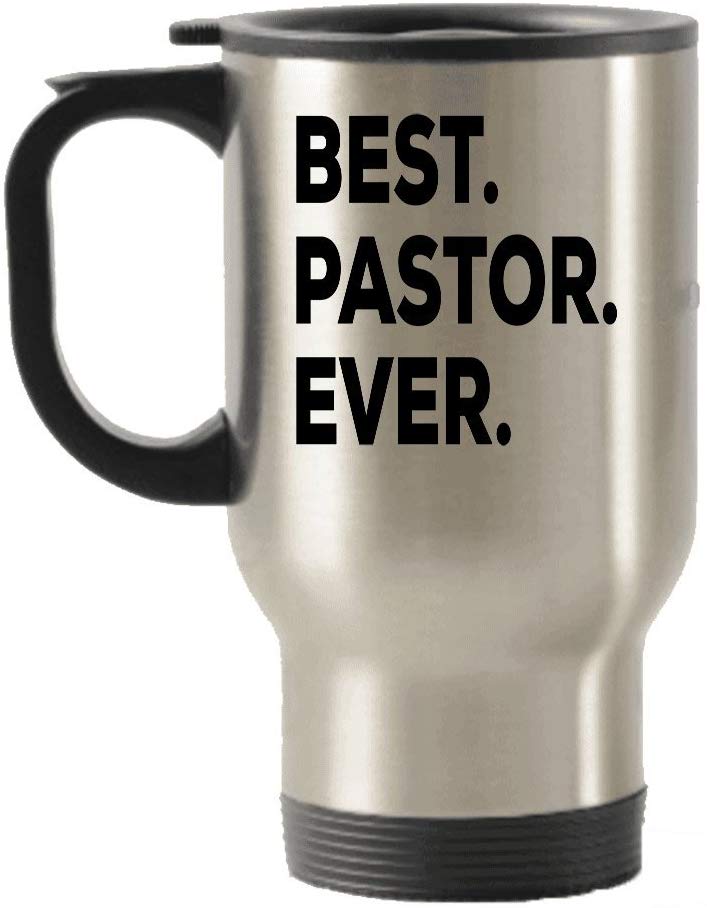 The stainless steel travel mug can hold up to 14 oz worth of liquid and also has an easy-grip handle and thumb rest. 
It also has tapered bottom fits coming in a standard cup holder. The lid has a slide opening and slanted drinking surface.
This travel mug is made for durability and has a double-thick wall which helps to keep drinks hot and cold for longer than the normal mug
The image is printed with the highest-quality sublimation in as well as printing techniques that guarantee a lasting print. 
 Get the product here
Azpen A747 My E-Bible eReader Tablet, NKJV & NIV with Narration & Leather Case (Red)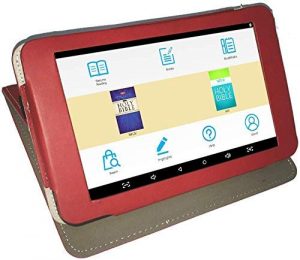 The Azpen A747 E-Bible e-Reader Tablet comes with earbuds, a power adapter, micro USB and a leather case with a built-in stand. 
Fix tablet is narrated and provided with the New King James Version as well as the new international version.
It has a touch screen control to highlight bookmarks it and take notes of important things.  there is also in Play and pause function on the e-reader.
The tablet is 7″ 1280 x 800 IPS, has an  LCD colour display leather case. 
BUY IT HERE ON AMAZON
Always a great privilege to get gifts for your pastor especially during Christmas celebrations.  haven't worked all year, the pastor deserves some form of appreciation. 
Although your gift is not a way of paying for his work it serves as a show of gratitude and saying thank you for being there with you. 
Pastors are humans and would very much thank you for gifting them a lovely parcel on Christmas. I am sure this post has helped you in buying the right Christmas gifts for your pastor to appreciate him.