Nigerian churches, from Winners' Chapel to RCCG and Christ Embassy, among others, have been releasing their 2021 prophetic theme for the New Year.
Already the Winners' Chapel tagged theirs "Turn Around Era" while Christ Embassy said theirs is "The Year Of Preparation."
Word Of The Year: 2021 Themes Of Nigerian Churches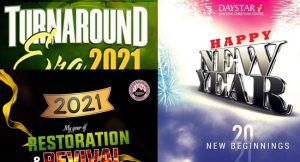 Below is a compilation of the new year 2021 prophetic themes for Nigerian churches:
Living Faith Church Worldwide – TURNAROUND ERA
Christ Embassy– The Year of Preparation
Mountain of Fire and Miracles Ministries – My Year of Restoration and Revival.
Celebration Church – The Year of Light.
Day Star Christian Centre – New Beginnings
Eternity Network International– The Season of Victory
Liberty Christian Centre– Greater Light
ANSWERS ASSEMBLY – My Year of Triple Release
Nigerian Churches Themes 2021
As more Nigerian churches drop their themes for the year, they will be updated here. Do well to also drop your church's theme of the year for 2021 in the comment box so it would be updated.