Prayers of thanksgiving are a necessity for every believer. Offering prayer points of thanksgiving to God is one of the core things that Christians must continually do on a daily basis.
Interestingly, the Psalmist tells us to bless the Lord and not just that but not to forget his benefits to us as His people. (Psalm 103:2 Bless the LORD, O my soul, and forget not all his benefits).
Again, in Psalm 100: 4, the Bible enjoins us to "Enter into his gates with thanksgiving, and into his courts with praise: be thankful unto him, and bless his name."
Also, Jonah (chapter 2:9) remembered the good deeds of the Lord upon His life and decided to offer prayers of thanksgiving and praises to God.
He said, "But I will sacrifice unto thee with the voice of thanksgiving; I will pay that that I have vowed. Salvation is of the Lord."
What Is a Prayer OF Thanksgiving To God?
A prayer of thanksgiving is also called a prayer to glorify God for what He has done! Thanksgiving prayer points are meant to appreciate God for His goodness.
We can also offer thanksgiving prayers for families and friends for what God has done.
Thanksgiving Prayer Points: Why We Glorify God
As we saw from the above verses of the Bible, every Christian is expected to offer thanks to God.
In the physical realm, people thank others when they have done something good for them.
As a matter of fact, we may get offended when someone we help does not thank us in appreciation for our efforts.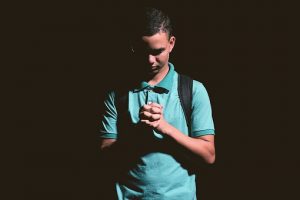 Sometimes, we might feel bad that things are not going our way; how we wanted them to be but we cannot underestimate how much God has done for us.
However, we thank God for He is the one that granted us life; we have His breath in us! That's one indisputable fact!
That alone is more than enough to thank Him; offer some thanksgiving prayer points.
How To Offer Thanksgiving; Prayer Points
There are so many ways to give thanks to God for all He's done; prayers of thanksgiving to God:
Some of them are listed as follows:
1.  By saying "Thank you Lord" from our hearts and not from our mouths.
2. Intentionally looking for reasons to give thanks to God and appreciating Him for specific things one after the other.
3. Not murmuring but showing contentment for what we have and believing Him for the remaining.
4. By trusting and obeying Him.
5. Living exemplary lives in word and deed.
6. Calling Him sweet names in prayer.
7. By showing love to others; giving out of the little we have is a way to thank Him for blessing us with something to share with others.
8. Also, we can thank Him by sharing testimonies of His goodness.
9. Singing and dancing.
When to Offer Prayers of Thanksgiving to God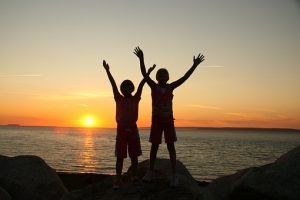 Now, let's see when we should offer prayers of thanksgiving to God:
1. Always!
2. In good times and bad times, too.
Power of Thanksgiving Prayers
What can God do when we offer Him a prayer of thanksgiving and supplication? Why bother offering prayers of thanksgiving to the Almighty? Below is the power of thanksgiving prayer and praise:
1. Thanksgiving moves God to do more.
2. It leads to an increase  (John 6:1 – 14).
3. Brings wholeness (Luke 17:11 – 19).
Prayer of Thanksgiving and Supplication To God That Work
Below, is a compilation of 26 short and powerful thanksgiving prayer points that work:
1. I thank You, Lord, for grace; grace to emerge and manifest your glory as true son/daughter of Christ in Jesus name!
2. Father, I thank you for your grace and we also thank you in anticipation that you have will do my life.
3. Thank You, LORD, for the testimony in my life. Thank You for visiting me; my testimony shall be next in Jesus precious name.
4. My God, Thank You, Lord, for giving me victory!
5. Lord, I thank You for surrounding me with testimonies on every side. Thanks for my victory in Christ Jesus.
6. Thank you, Father God, for your blessings upon my family. You are marvelous in your dealings with us.
7. Thank you, LORD, for your prevailing power now at work in me
8.  My Father in Heaven, the Extraordinary Strategist like no other, I worship You. Your excellence and wisdom to ensure the salvation of Your chosen ones are awesome, more so is Your Love that compels You to go all the way for me.
9. I thank You for the grace to remain rooted and grounded in You, to desire to dwell daily in the mirror of Your Word!
10. Thank YOU for the open doors granted to me and my family! For breakthrough, I thank You!
11. I glorify Your name 'cause Your blessings in my life have come to stay.
12. Thank You for healing the sick and restoring my fortunes in Jesus precious name
13. Thank You, LORD, for releasing your power upon me to become an agent of positive change.
14. Father, thank you, Lord, for what you are doing in me and through me. Thank you, Lord, for the love and unity that binds my household. Thank you, Jesus
15.  Father, I thank you for your goodness and loving-kindness towards me and my family. For the strength, thank. For peace and joy, I thank you.
16. For answered prayers, I thank you. Thank you, Father, in Jesus name!
17. Thank You for I am nothing without You. You are my maker!
18. Thanks for Your breath in my lungs and for preserving me. I am only alive by Your mercy!
19.  Lord, I bow in thanks for saving me by the blood of Your son Jesus. For forgiving me my sins, I thank you.
20. Father, thank You for victory over sin and satan; for you have shown me mercy
21.  Thank You, my healer; the one who strengthens me in the day of adversity. I magnify You for being a friend when there's none.
22.  For the peace within the storm that You give me, my words won't be enough to praise you.
23.  Thank You for wisdom in times of confusion; for being my Comforter in sorrow.
24.  Only You have made a way for me where there is no way. Baba, I lift my voice in praise of Your name!
25. I will give thanks to the Lord that turned my mourning into dancing; my hope when all else fails.
26. I will forever praise You Jehovah Nissi, my defender, and shield!
Bible Verses About Thanksgiving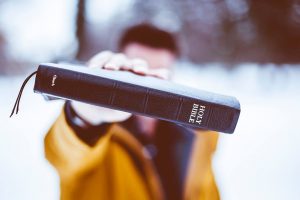 In addition to the prayer of thanksgiving examples, there are some Bible verses about thanksgiving.  You might want to call them bible verses about thanksgiving and gratitude and you won't be wrong either as seen below:
Psalm 100 (KJV): A Psalm Of Praise, Thanksgiving
1. Make a joyful noise unto the Lord, all ye lands.
2 Serve the Lord with gladness: come before his presence with singing.
3 Know ye that the Lord he is God: it is he that hath made us, and not we ourselves; we are his people and the sheep of his pasture.
4 Enter into his gates with thanksgiving, and into his courts with praise: be thankful unto Him and bless his name.
5 For the Lord is good; his mercy is everlasting, and his truth endureth to all generations.
1 Timothy 4:4-5:
For everything God created is good, and nothing is to be rejected if it is received with thanksgiving, because it is consecrated by the word of God and prayer.
1 Chronicles 16:34:
"Give thanks to the LORD, for he is good; his mercy endures forever
Psalm 107:8-9:
"Let them give thanks to the LORD for his unfailing love and his wonderful deeds for mankind, for he satisfies the thirsty and fills the hungry with good things."
Psalm 103:2:
Bless the LORD, O my soul, and forget not all his benefits.
Phil 4: 6:
Do not be anxious about anything, but in every situation, by prayer and petition, with thanksgiving, present your requests to God.
Ps 34:1:
I will extol the LORD at all times; his praise will always be on my lips. I will extol the Lord at all times;
His praise will always be on my lips.
I will glory in the Lord; let the afflicted hear and rejoice.
Glorify the Lord with me; let us exalt his name together.
Psalm 34:1-3
I thank you, Lord, with all my heart;
I sing praise to you before the gods.
I face your holy Temple, bow down, and praise your name
because of your constant love and faithfulness,
because you have shown that your name and your commands are supreme.
Psalm 56:12:
I am under vows to you, my God; I will present my thank offerings to you.
Never forget at each point in your life to offer the prayer of thanksgiving to God almighty. Thanksgiving prayer points with scriptures and bible verses help a whole lot.
Prayers of praise and thanksgiving are not just for individuals. Prayer of thanksgiving in RCCG (Redeemed Christian Church of God was a prominent feature of their 2019 fasting. It will be repeated in 2020/
In fact, you can find gather thanksgiving prayer points for the church, especially when you want to see growth in such an assembly.
I have not written about MFM thanksgiving prayers but other prayer points from Dr. D  Olukoya can be found here, too! They are not thanksgiving prayers for deliverance!