It's WAFBEC 2021! Another edition of the West Africa Faith Believers' Convention (WAFBEC) hosted by the Covenant Nation formerly called the Covenant Christian Centre (CCC) is here!
WAFBEC 2021 Date
WAFBEC 2021 will be starting on Sunday, January 3rd, and end on Sunday, January 10th.
What Is WAFBEC?
It is the West Africa Faith Believers' Convention (WAFBEC) and is a teaching programme hosted yearly by Pastor Poju Oyemade, head pastor of The Covenant Nation.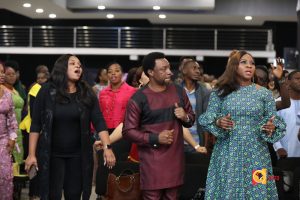 "WAFBEC is a faith Conference born in worship and intercession designed to address eternal issues and also things that are going on in time. It is prophetic, relevant and an impartation of grace," reads a statement from the organizers. "We pray, we teach and we prophesy. The emphasis will be on God's Word and the move of the Spirit. "
WAFBEC 2021 Theme?
The WAFBEC theme for 2021 is manifesting the kingdom, according to the conveners of the programme.
WAFBEC 2021 Message Live Stream
To live stream WAFBEC 2021, visit here.
How To Follow WAFBEC 2021 Live
Follow the events online via these social media platforms:
Instagram: @wafbec
Twitter: @wafbec
Youtube: wafbec
Facebook: West Africa Faith Believers Convention.
Share WAFBEC Testimony
You can send your WAFBEC testimonies to testimonies@wafbec.org.
WAFBEC 2021 Ministers, Speakers
WAFBEC 2021. First take. pic.twitter.com/D2eaXsSozf

— POJU OYEMADE (@pastorpoju) December 14, 2020
The 2021 WAFBEC will see the following ministers and speakers in attendance:
Poju Oyemade
Pastor Poju Oyemade is the Senior Pastor and Founder of The Covenant Nation (TCN) – a ministry founded in 1994 and headquartered in Lagos Nigeria, where he oversees a dynamic community of believers who attend any of its services every week or join in on its online platforms.
Pastor E.A Adeboye
He is the General Overseer of the Redeemed Christian Church of God (RCCG).
Rev. Dr. Dharius Daniels
He is the founder and Lead Pastor of Change Church. Change Church is a vibrant ministry that impacts people of all ages, socioeconomic classes, and ethnic backgrounds.
Pastor Yemi Davids
 He "is an anointed teacher, public speaker, Best-selling author and radio host. He believes that man was not created as finality, but a possibility."
Pastor Dr Andy Osakwe
 The founder and President of Andrew Osakwe Ministries International, he is a Medical Doctor by training and a graduate of Rhema Bible Training Centre, Tulsa, Oklahoma, U.S.A.
Bishop Francis Wale Oke
Wale Oke is known around the world with a testimony of over 33 years of great impact
Bishop Tudor Bismark
Tudor Bismark is an apostolic voice to the nations. From the age of 17 when he began travelling to outskirt villages in the Bulawayo region in Zimbabwe, to the present where he is requested at some of the largest gatherings of Christians around the world, Bishop Bismark has been known for speaking the gospel.
Apostle Joshua Selman
Selman Nimmack is a Nigerian Televangelist and a relational teacher of the Word of God. He is the founder of Eternity Network International (ENI), a ministry he started in March 2011.
Dr. Efe Obuke
A is a medical doctor by training is an avid teacher and preacher of the Word, since 1985, Dr. Efe Obuke's Ministry has been actively involved in pioneering churches and outreaches.
Pastor Jerry Uchechukwu Eze
The dynamic Founder and President of the fast-growing Streams of Joy International, a seasoned Pastor and leader, a consummate conference speaker and a leadership coach.
Pastor Keion Henderson
He is the charismatic leader of one of the fastest-growing churches in the nation. Located in Houston Texas, The Lighthouse Church has grown from 5 members to more than 6,000 members in less than 8 years
Pastor Robert Madu
For 13 years he has crisscrossed the globe, preaching the gospel and taking every opportunity to tell people about the love of Jesus Christ.
He is a family man, husband to Taylor Madu, and father, to Evie + Nnaj + Remi.
Dr Mensa Otabil
Dr Mensa Otabil is a respected Christian minister, educator, theologian, philanthropist, and entrepreneur. He oversees the multi-faced network of ministries of the International Central Gospel Church with its headquarters in Accra, Ghana. He also serves as Senior Pastor of Christ Temple.
Dr Bill Winston
He is the founder and pastor of Living Word Christian Center, a multi-cultural, non-denominational church with more than 20,000 members located in Forest Park, Illinois.
Dr A.R Bernard
The Rev. A. R. Bernard, Sr. is founding pastor of the Christian Cultural Center (CCC) in New York City, and founder of the Brooklyn Preparatory School and Cultural Arts Academy Charter School.
Dr Cindy Trimm
Dr Trimm has earned a distinguished reputation as a catalyst of change and voice of hope to the nations. Cindy Trimm has dedicated her life to serving God and humanity. She is a best-selling author, a sought-after empowerment specialist, revolutionary thinker, and transformational leader.
WAFBEC 2021 Message Download
Download WAFBEC messages for 2021 here. Or simply watch all WAFBEC 2020 messages here instead of the audio.
Venue For WAFBEC 2021
 The Covenant Place, Beside The National Theatre, Iganmu, Lagos.
2021 WAFBEC Schedule, Time
Due to the COVID-19 pandemic, the WAFBEC 2021 will hold virtually and physically, also.
Checkout the WAFBEC programme schedule for the 2021 edition below:

Early morning session 5.00am for Prayers and declarations. (Digital only)
Morning session starts 9.00am. (Physical and Digital.)
Afternoon session starts 1.30pm (Physical and Digital.)
Evening session starts 6.00pm (Physical and Digital)
 WAFBEC 2021 Pre-Registration
According to the church, "If you are coming into the auditorium, it's imperative that you register at www.insightsforliving.org/wafbecregister." It is free of charge to pre-register.