The Living Faith Church called Winners' Chapel has declared its prophetic focus or theme of the month for March 2020 as Fight a Good Fight of Faith.
According to a statement from the Winners' Chapel, the March 2020 prophetic theme; focus is taken from 1st Timothy 6:12.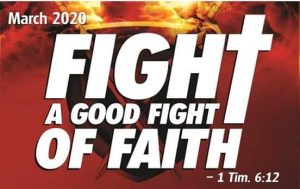 Read Also: WOFBI 2020: Schedule, Courses, Registration Fees + Everything About Bible School
Winners' Chapel Recommended Books of the Month March 2020
The statement from Bishop David Oyedepo further read that the recommended books for the month of March 2020 are:
a. Unlimited Power of Faith
b. Understanding the Power of Faith
c. Born to Win
d. Exploits of Faith
e. The Lifestyle of Faith
Winners' Chapel Bishop David Oyedepo Prophetic Declarations March 2020
This will be posted shortly.
I decree your liberty from all forms of spells and enchantment in the name of Jesus!#MondayMorning#Breakinglimits pic.twitter.com/ntBcJjZBsV

— Winners Chapel International (@WinnersWLD) March 2, 2020
Winners Chapel Prophetic Theme of the Year 2020
Prayer Points Altar had earlier told you that the Winners' Chapel Prophetic Theme for 2020 is Breaking Limits.