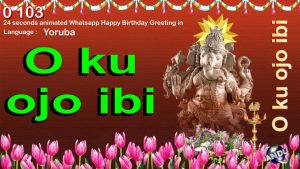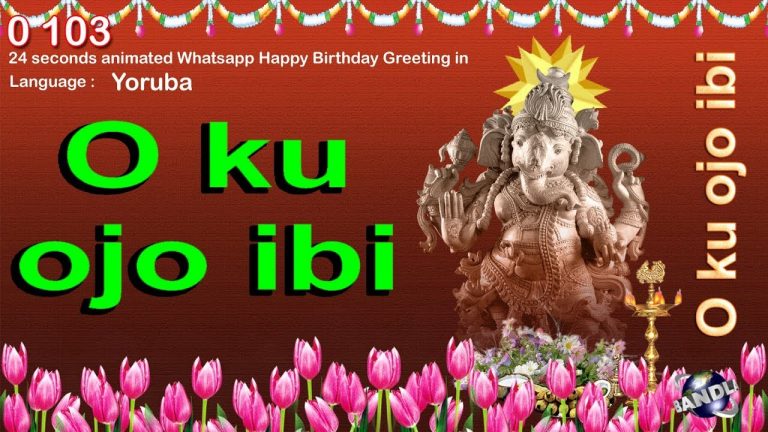 A compilation of powerful Yoruba prayers, Yoruba prayer for a mother, Yoruba prayer to God and Yoruba birthday prayers, messages and wishes for friends and lovers.
How to Wish Someone Happy Birthday in Yoruba: Quotes, Prayers, Messages
If you want to wish someone a happy birthday in Yoruba, send prayers as a message to wish them well on their special day, see how you can do it below:
E ku odun, e ku iyedun—
Translation: Greetings on your birthday celebrations; special greetings for having made it through another new year!
Ẹ ku Ayọ Ọjọ Ibi
Note that you should use ""Kú ọjọ́ ìbí" when sending birthday prayers, messages and wishes in Yoruba to someone older than you.
On the other hand, "Ẹ kú ọjọ́ ìbí" is used as a birthday message, wish or prayer in Yoruba, one of Nigeria's widely-spoken languages when referring to more than 1 person older than you.
Igba odun Odunkan
Ekú odún, ekú ìyèdùn, èmì á se púpò lórílè alààyè.
Yoruba Happy Birthday Prayer, Wishes, Messages For Mother
Mothers are exceptional and have a special place in the lives of their children, whether young or old.
Here is a powerful Yoruba happy birthday prayer, message or wishes that you can send to your mother, mother-in-law on her special day:
GET POWERFUL YORUBA PRAYER BOOK BY MFM'S OLUKOYA HERE

Dear sweet mother,
Iya mi owon to dun
My teacher, my friend, my first love and my comforter
Oluko mi, ore mi, ife mi akoko ati olutunu mi
My pathfinder, my caregiver, my confidant, my cheerleader
Olutona mi, oluke mi, oloro mi, oluyesi mi
My mentor, my inspirational speaker, my gentle teacher
Awokose mi, abanisoro iwuri mi, amona mi ti o ni suuru
You were there when I took my first step and went unsteadily across the floor
E wa nibe nigba ti mo gbe ese akoko mi
You were there when I had my first laugh
E wa nibe nigba ti mo rin erin akoko mi
Thank you for molding me into a fine woman
Eseun fun bi e se mo mi si obinrin daradara
Thanks for teaching me how to love and give
Eseun fun kiko ti e ko mi ni ififunni ati ife
Yoruba Happy Birthday Prayer to God for   Mother
You can also use this simple Yoruba prayer to wish your mother a happy birthday:
God, please, take care of my mum
Orisa oke, dakun, bami ke yeye mi
Let her eat the fruit of her labour
Jeko duro je egusi ti o fi owo re se
Amin
COMMAND THE MORNING PRAYER POINTS IN YORUBA
Yoruba Birthday Message for mother
Here is a simple Yoruba birthday poem you can  send as a message to your mother:
Iya mi o
My mother
Iya mi Pataki
My most important personality
Iya mi o
My mother
Iya mi kakaki
My trumpet
Alomi nile lojo ongbe gbe mi
The one who always have water when I am thirsty
Alo nje nile lojo ebi pa mi
The one who always has food when I am hungry

Ta ni nba yin bi o se Iya mi?
Who else can I praise if not her?
Ta ni nba dupe lope lowo re bi o se Iya mi?
Who can else can I appreciate if not her?
Se oyun osun mesan ni ka so ni ?
Is it the stress of the nine-month that we will talk about?
Tabi ohun oju ri ni ojo kunle ni karo?
Or your experience during the labour that produced me?
Lati omo owo titi de bi ira koro
From an infant to a toddler
Lati irakoro titi de bi irin
From a toddler to boyhood
Iya mi o
My mother
Ese modupe
Thank you I am grateful
Birthday Wishes to a Lover in Yoruba (Yoruba Birthday Prayer for Boyfriend, Girlfriend)
Now, lets' move away quickly, having sorted out the Yoruba prayers messages and wishes to send to your mother.
Wishing your lover (boyfriend or girlfriend) a happy birthday in Yoruba can be one of the sweetest stuff you can do.
Love is beautiful but there is a touch of class and finesse when you can offer prayers, send wishes and a message to your lover on their birthday in Yoruba.
Below is the birthday wishes to a lover in Yoruba
Ku Ojo Ibi ololufe mi (put name).
Mo feran ee lati inu okan mi waa.
Mo si ro wipe o on gbadun ojo ibi ree ololufe mi.
Yoruba Prayer to God for Blessings, Protection
Praying to God Almighty is a simple yet effective way to leave life to the fullest.  Prayers do not have a particular time that you can offer them to God.
READ ALSO: ABOUT US AT PRAYER POINTS ALTAR
It's most interesting to offer prayer to God in any language.  In Nigeria, the Yoruba people call prayer adura.
In this part of the post, you'd see a simple, powerful Yoruba prayer to God which can be used in the morning, afternoon or even at night for His blessings.
Powerful Yoruba Prayer to God (Adura) for blessing, breakthrough
Ki nle 'ke odi.
Raise me above all misfortune.
Kiemaa gbe'mi n'ija kiemaa gbe mi leke isoro lojo gbogbo ni gbogbo ojo aye mi.
Raise me above all misfortune that might come my way while on this earth.
Kiemaa gbe 're.
Always bring me good fortune.
Bi'ku ba sunmo itosi ki e bami ye ojo iku.
If death is near,  help us to avert it.
Odun tiatibi mi sinu aye ki e bami ye ojo iku fun ara mi ati awon omo mi ti mo bi. Kiamaku ni kekere, kiamaku iku ina, kiamaku iku oro, kiamaku ike ejo, kiamaku sinu omi.
Avert death for all my children avert death for all those I include in my prayers. May they not die young, may they not die in fire, may they not die in tragedy, may they not die in shame, may they not die in water.
Ki e maf'foju re wo mi, ki awon omo araye lee maa fi oju rere wo mi.
I beg you to look upon me with good eyes so the world will be favorable to me and my children, may I be free from illness.
Ki e ma jeki nsaisan ki nsegun odi ki nrehin ota.
Let me overcome my enemies.
Ki e si'na aje fun me, ki awon omo araye wa maa bami, ra oja ti mo ba niita warawara, ipeku Orun e pehinda lodo mi.
Open the way to wealth for me, that the whole world will want the products of my work, let death pass me by.
Ki e da mi ni abiyamo tiyoo bimo rere ti won, yoo gb'ehin si sinu aye ate beebee.
May I be known as a parent who produces good children, who will stand behind me, follow my guidance and bury me at the end of my life.
Ki e ka ibi kuro lona fun mi lode aye.
Remove all obstacles wherever I go in the world.
Ki e bami ka'wo Iku, arun ejo ofo ofo efun edi apeta oso.
Protect me from death, disease, litigation, loss and hexing, prevent harm from those who work hexes.
Ki o r'omo gbe sire, ki e jeki oruko mi han si rere, ki ipa mi laye ma parun.
Let my name not be spoken with contempt, let my name be famous in the world, let my lineage flourish in the world.
Ki e jeki ngboki nto ki npa ewu s'ehin.
Let me live long and see my hair turn white.
Ase, ase, ase, 'se o.
May it be so, may it be so, may it be so.
Yoruba Prayer To God, Yoruba Birthday 
NB: Some of these prayer points in Yoruba for birthday message to your mother, lover or friend were not composed by the author.
They were some that came from Alicia of http://cappuccinosoul.blogspot.com/  and Nairaland. They were, however, edited where needed.
If you were looking for power Yoruba prayer (adura), birthday wishes to lover in Yoruba, a Yoruba birthday poem, a Yoruba birthday message for your mother, or even birthday quotes in Yoruba language, then this post has done just that.
As always, I'd plead with you to share these power Yoruba prayer (adura) and birthday wishes and messages with your friend if it was useful to you!