Tuesday, December 3rd is the Shiloh 2019 starting date (start). Also, the Shiloh 2019 theme is "Breaking Limits," according to the Winners' Chapel.
Read Also: 5 Perfect, Affordable Christmas Gift Ideas For Your Pastors
A statement by the Winners' Chapel also revealed that it is expecting the number of nations present, when the Shiloh 2019 starts, to exceed that of 2018.
When Is Shiloh 2019 Starting Date? Shiloh 2019 Date
If you have been asking, "When is Shiloh 2019 starting? like others, get ready for the move of God as the programme will start on December 3rd (Tuesday) and end on Sunday, 8th December.
Winners' Chapel Shiloh 2019 Theme
The 2019 Shiloh theme of the Winners' Chapel is Breaking Limits with the anchor scripture from John 14:12. 
"Very truly I tell you, whoever believes in me will do the works I have been doing, and they will do even greater things than these because I am going to the Father."
 Winners' Chapel Shiloh 2019 Breaking Limits
Praise is what causes your battle to change hands. There are too many prayer warriors; it is time to become a praise warrior. (2 Chronicles 20:22-25). #Praise#ALifeStyle#SettingAnAmbush#IHaveDominion pic.twitter.com/Be61MiGNHs

— David Oyedepo Min. (@DavidOyedepoMin) October 16, 2019
The 2019 Winners' Chapel Shiloh programme is the 21st edition and the church normally start its preparation with thanksgiving for all testimonies recorded from her universities especially Covenant University.
Also, there would be the Founders day on Sunday 20th October after which focus shifts fully to Shiloh 2019.
According to the Founder of the Winners' Chapel, Bishop Oyedepo, he got the vision to start Shiloh while waiting on the Lord back in 1998 and inquiring about God's plan for Canaanland, among other things.
"And the whole congregation of the children of Israel assembled together at Shiloh, and set up the tabernacle of the congregation there," says Bishop Oyedepo.
"And the land was subdued before them. And there remained among the children of Israel seven tribes, which had not yet received their inheritance.
"And Joshua said unto the children of Israel, How long are ye slack to go to possess the land, which the LORD God of your fathers hath given you?" – Joshua 18:1-3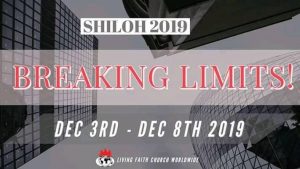 According to the Winners' Chapel, Shiloh 2019 is not a church convention but a prelude to starting off the new year.
Shiloh 2019 Guest
The Shiloh 2019 will be attended by a former Nigerian Minister and the Deputy Secretary-General of the United Nations Amina Jane Mohammed.
Also, American Preacher Kenneth Copeland is expected to be at the 2019 Shiloh which starts on December 3rd.
Winners' Chapel Shiloh 2019 Livestream On YouTube
Shiloh 2019 programme runs live from 5:30 am to 10 pm daily (Nigerian time) in all the Living Faith worship centres.
Also, Shiloh 2019 live stream will be enjoyed online by viewers in about 150 nations of the world.
God does not hear your prayers when you regard iniquity in your heart (Psalm 66:18); likewise, He will not also accept or celebrate your praises when you sin.#Praise#Righteousness#IHaveDominion pic.twitter.com/YZpcaaPfLD

— David Oyedepo Min. (@DavidOyedepoMin) October 17, 2019
Shiloh 2019 Prayer Guide
These are the prayer points for Shiloh 2019:
– Father, thank you for the impact of Shiloh 2019 both at Canaanland and in all the viewing centres around the globe – Gen 21:1
– Father thank you for giving every participant at Shiloh 2019 an encounter of a lifetime through your word – Isa 9:8
– Father sanctify the entire Canaanland, making it t for your divine presence at Shiloh 2019 – Exo 3:5
– Father, let your cloud of glory ll the entire Canaanland and all the viewing centres around the world all through Shiloh 2019 – 2 Chr 5:13-14
– Father, let Shiloh 2019 answer to its name in the lives of all participants – Gen 2:19
– Father, by your Spirit, empower your servant (Bishop David Oyedepo) and other ministers for maximum impact throughout Shiloh 2019 – 2 Cor 3:6
– Father, release afresh upon the Apostle over this commission, the Spirit of Wisdom required to match the demands of Shiloh 2019 – Deut 34:9
– Father, send us your word at Shiloh 2019, thereby opening new chapters to the lives of all participants – 2 Cor 3:18
– Father, let your word come with power for instant healing and deliverance for all the oppressed – Ps 107:20
– Father, let your presence dominate this years' Shiloh 2019 live broadcast, thereby making it a mountain of transformation indeed for all participants – 1 Sam 3:21
– Father, let Shiloh 2019 be a most peaceful event, thereby providing a platform for signs and wonders among your people – Ps 46:10
– Father, we decree perfect weather all through Shiloh. The sun shall not be scouring and the cloud shall withhold its rain – Job 37:22
– Father, show yourself strong and mighty in the lives of all participants at Shiloh 2019, both at Canaanland and in all the viewing centres across the globe – Zeph 3:17
Get the Shiloh 2019 Winners' Chapel prayer points in PDF here.
Shiloh 2019 Daily Programme Guide
This, below, is the programme schedule for Shiloh 2019 of the Winners' Chapel worldwide when it starts:
Time                                 Programme
5:30 am– 6:30 am             Shiloh Prayer Hour
7:00 pm – 12 noon              Word Encounter
1:00 pm – 3 pm                   Special Classes
3:00 pm – 5 PM                    Youth Alive Forum
7:00 pm – 10 pm                  Night of Encounter
NB: This will be the daily programme schedule at 2019 Shiloh of the Winners' Chapel after the first day (Tuesday, December 3rd, 2019).
Shiloh 2019 Messages Free Download
You can download Shiloh 2019 messages in audio and video online on YouTube or the Winners' Chapel live stream website.
See other past Shiloh messages here:
Shiloh 2019 Testimonies
Supernatural Breakthrough via Shiloh Sacrifice!
I joined this Commission in 2011. During Shiloh 2014, the Holy Spirit told me to sow my house rent as my Shiloh sacrifice.
That same day, a lady shared a similar testimony in church on how God blessed her because she gave her house rent as Shiloh sacrifice. Thereafter, my wife and I agreed to do the same.
On March 1, 2015, my boss appointed me to execute a project, though I lacked the required experience. 
However, by divine wisdom, I executed the project successfully. Prior to this time, I never knew there was a commission attached to the project until March 23. 
Meanwhile, my house rent was due on March 30. Behold, after the analysis of that project, the commission I got was overwhelming.
Also, the tithe I paid was exactly the same amount as my house rent. Furthermore, the amount I have in my account is ten times greater than what I gave as Shiloh sacrifice. Indeed, God is not a robber!
Do well to share this post about Shiloh 2019 date, theme, prayer guide, live stream from YouTube about the Winners' Chapel and also the programme schedule with friends! Go forth, breaking limits!