The Winners' Chapel has released its WSF teaching outline and series for August 2020 for its home cell meetings, Prayer Points Altar has understood.
This platform understands that the WSF home cell takes place every Saturday in Nigeria and across the world at various centers with August 2020 no exception.
Winners Prophetic Focus For August 2020
The Winners' Chapel prophetic Focus for August 2020 has also been published. Find out details here. 
WSF August 2020 Teaching Outline PDF
The WSF August 2020 teaching outline has been published here and although we don't have it in PDF version, this digital copy can serve as one.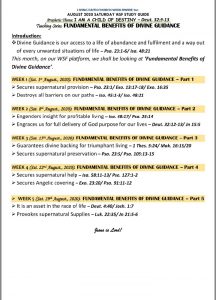 Other Winners' Article You Might Be Interested In
Also, these are some posts about Winners' Chapel you might be interested in:
 Winners' Chapel 2020 Personalized Prophetic Declaration, Prayers
Service Units In Winners' Chapel: The Complete List From LFC
WOFBI 2020: Schedule, Courses, Registration Fees + Everything About Bible School